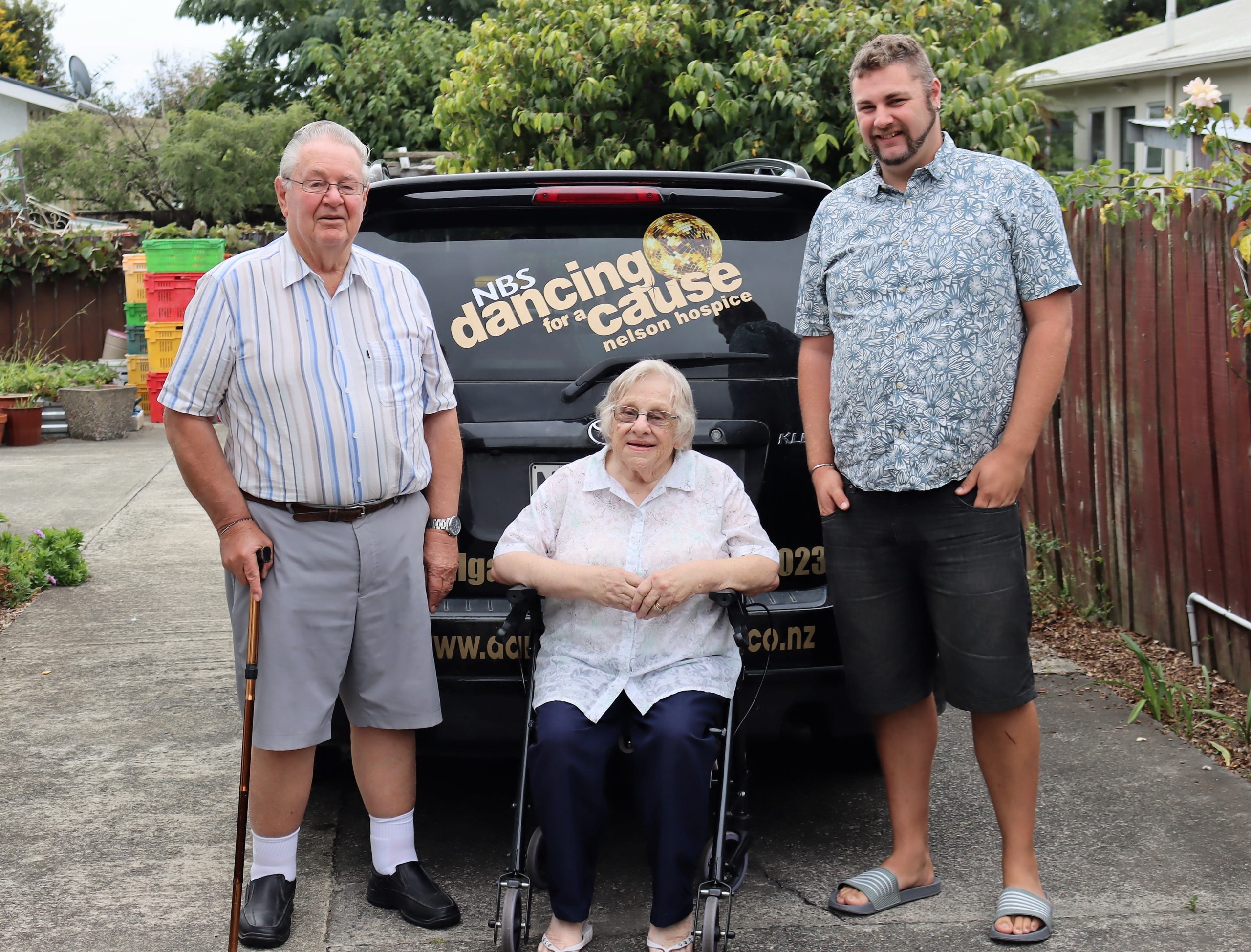 "Get out there. Do it!" is what Sam Nicholls told us when he was asked what he would like others to know about volunteering for Nelson Tasman Hospice. We recently met with Sam and his grandparents Jenny & Malcolm Reid who also volunteer for Nelson Tasman Hospice to find out why they choose to give their time to hospice. 
Jenny and Malcolm started volunteering for Nelson Tasman Hospice in 2011. Jenny's Mum and Dad both had access to hospice services in Motueka when they died in 2007 and 2010, respectively. When the Reid's were sent a pamphlet asking for volunteers for raffles Jenny says "We've done a lot on school committees and all that. So, we went to Mary (Garner, Nelson Tasman Hospice Volunteer Coordinator) and from then on, we've just done it." They sell raffle tickets outside Nelson City New World for two hours, once a month, with all proceeds coming to the Hospice, and every December they give time to fundraise with Trees of Remembrance.  
Jenny says that the Hospice care her parents received was brilliant, and they were so thankful that both of her parents were able to die in their own home. "The empathy the staff show towards people, it's unparalleled. It's just really lovely." Malcolm says as he remembers having to phone Hospice one night at 2am with an issue and being told to put the outside light on and someone would be there as soon as possible. "And sure enough, in next to no time the nurse was there. They fixed it up, made sure Dad was comfortable, then told us to put the kettle on and sat with us to have a cup of tea."  
After experiencing the care that they did, it was an easy decision for them to volunteer some of their time. As Malcolm says, "Pensioners don't have any money, but they've got time. And time is valuable to an organisation like yours." In fact, our volunteers donated an incredible total of over 40,000 hours in the last financial year.  
Sam remembers his great grandparents being in Hospice care, as well as his ex-mother-in-law dying in the Specialist Palliative Care Unit (SPCU) at Suffolk Road four years ago. He says that the care given in both experiences was just amazing. He has volunteered on the Dancing for a Cause Trust for the past 6 years as the Production Manager, pulling together the whole show and making sure it all goes smoothly on the big night. Dancing for a Cause is the major fundraiser for Nelson Tasman Hospice, happening biannually, with the event happening again this year on the 27th of May. The last event in 2021, raised a whopping $248,000!
This past Christmas Sam also decorated his house with lights as part of the Nelson Tasman Christmas Lights and asked for donations for Hospice from the people going through the property. His 5-year-old son, Seth, was very happy to help, kicking off his volunteering service early.  
"I watched Hospice with my great grandparents, and Seth's nana, and you were so amazing. So, I felt that giving something back would be the right thing to do." Sam says that he thinks it is important for people to know that they can help Hospice by volunteering. It doesn't have to be a cash donation, there are so many ways to help "behind the scenes." When asked why he thinks that about 85% of our volunteers are female, he thinks it is just that people just aren't aware that we need the help.  
Volunteers enhance hospice services in so many ways. Along with their time comes the skills and knowledge that adds additional value to Nelson Tasman Hospice across the region. Our 500+ volunteers work in a variety of roles from volunteering with patients, to task-oriented jobs, to those raising the necessary funds to help bridge the gap with our annual shortfall of $3.5 million.  
"We find it's good for us because it gets us out of the house. And it's something we can do together." Malcolm says.
Hospice isn't the only organisation this family volunteers for. Malcolm and Jenny give their time to two other charities. Sam's father also volunteers for two different local organisations, and his brother has helped with Dancing for a Cause in the past too. This family obviously have a strong volunteering gene, which we are very thankful for!