Welcome to our new volunteer manager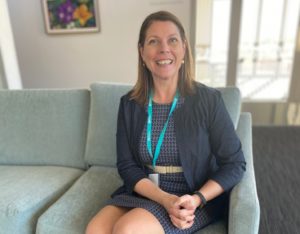 Please join me in welcoming Krisca Gould to Hospice. Krisca is taking up the hugely important role of Volunteer Programme Manager, meaning she will be the first point of contact and overseer of our hundreds (nearly 500) of volunteers. Krisca worked for the American Heart Association in Michigan for 14 years before moving to Richmond 18 months ago with her Kiwi husband and two teenaged sons.  
She says she's excited about her new role as volunteering is so personal to the individuals and also rewarding. Krisca says hospice is personal to her too, as her father, who had heart disease, was briefly in hospice care.  
She loves that volunteering means really being part of the community. 
Here at hospice,we have volunteers who bake, garden, make floral arrangements, help in the inpatient unit, write patient life stories, do admin work, pick up second-hand equipment for sale in our shops . . . The list goes on and on and we need every one of our volunteers to contribute to the holistic wrap-around service that hospice is. 
If you would like to donate your time to hospice – or just to send Krisca a message of welcome – you can contact her at krisca.gould@nelsonhospice.org.nz.