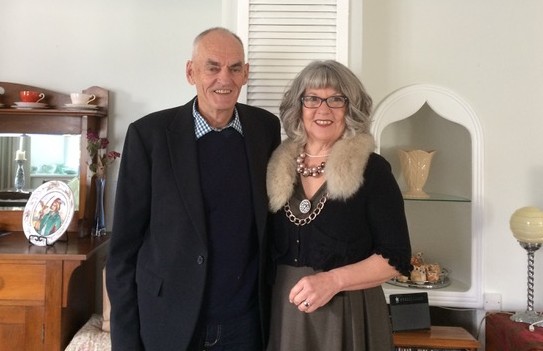 Patient story: Raelene shares her experience
Raelene Norris is mourning the loss of her husband, but she feels good knowing he had the best death possible.
Milton Norris was only 68 when he died in September. He had been dealing with cancer since 2001 when a rare sarcoma was removed from his leg. In 2014, a brain tumour was discovered but he persevered through many surgeries. But in 2019, he and Raelene returned to the oncologist when Milton was suffering pain, nausea and vomiting. This time the cancer had spread to his pancreas.
"All the other times I had a sense there was hope and there was something we could do," Raelene says. "I just knew this time he was going to be going."
Milton and Raelene had a final appointment with the oncologist in August.
Milton was initially admitted to hospice to get his pain and nausea under control and Raelene found the hospice environment caring from the start.
"Within five minutes everyone knew our names. It was so warm and loving.
"The oncologist after five years still didn't know my name. It made me realise what a long journey I'd been on, and how unsupported I'd been."
Milton and Raelene had been married for 31 years. A second marriage for both, they had five children between them when they got together, and they went on to have another two.
Their children are now aged from 28 to 47, and they have 16 grandchildren.
Raelene says Milton was a cyclist, a clown (known to many as Dynamo the Clown), a tramper, Search and Rescue volunteer, fencing contractor, and a "wonderful guy".
"With all the kids he was always just level and steady." Among many activities, he took the children white water rafting, gold prospecting, racing in trolley derby and on family camping trips. Raelene says they made a good team camping.
"He would take them and do things and I would have the BBQ ready."
While he was an inpatient at hospice, Raelene saw a Facebook post that talked about the tasks to attend to with the dying: the need to express "Thank you, I'm sorry, I forgive you, I love you, and Goodbye".
She says it gave both her and Milton food for thought. That night, Milton couldn't sleep and wrote up pages of things he was sorry for.
"There were tears and laughter and afterwards I tore it up and put it in the bin," Raelene says. "We just had the most loving and precious time. I talk about that all the time."
Raelene says that through his illness, she had to "let go of Milton" in some ways, to accept their relationship had changed.
"I wanted to do this well, to just love him well. And that's where hospice was so helpful. I did that."
She says the hospice doctor helped her break the process of dying down, and helped her trust her instincts which had been telling her he was dying quickly.
He died in his own Toi Toi home within weeks of being admitted to the hospice service. And now, while Raelene is dealing with a huge loss, she says she has no regrets about the way Milton died.
"I'm left mourning his life. At the same time I feel like it's a job well done. I wouldn't have that satisfaction without hospice.
"They gave me that confidence – I was supported to support Milton."