Annual Volunteer Garden Party 2023
Every year, pandemics permitting, Nelson Tasman Hospice holds a Volunteer Garden Party as a way to say Thank You to the more than 500 volunteers who give their time and expertise to the organisation. Volunteers are presented with long service awards and are hand served refreshments by Hospice staff to show our appreciation for all that they do.
We had a beautiful afternoon for the garden party last week with over 130 volunteers attending the event. 65 volunteers received their 5, 10, 15, 20 and 30 year, long-service awards. The garden party was held in the front garden of Nelson Tasman Hospice at Suffolk Road.
Volunteers enhance hospice services in so many ways. Along with their time comes the skills and knowledge that adds additional value to Nelson Tasman Hospice across the region. Our volunteers work in a variety of roles from volunteering with patients, to task-oriented jobs, to those raising the necessary funds to help bridge the gap with our annual shortfall of $3.5 million.
Throughout the year volunteers are invited to coffee mornings and other small events with the other volunteers doing the same types of roles, but this Annual Volunteer Garden Party is the only time where all of the volunteers have the chance to come together in one place.
We genuinely appreciate the gift of time and talent from all Hospice volunteers. It is a privilege to hav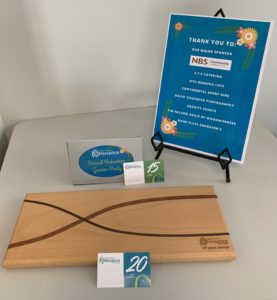 e such a willing and dedicated team.
A special mention and Thank You to NBS, the major sponsor of the Garden Party.
We had support from 3T's catering, Continental Event Hire, Gravity Events, and Name Plate Engravers. The Nelson Guild of Woodworkers supplied us with beautiful cheeseboards for 20+ years recipients.
Also, a big thank you to David Chadwick photography for again supporting the event.