"We really felt how important we were" – Adrian
Nicky was an amazing woman, mother, and my wife for 29 years.
We were just a normal, happy family until June 2014 when Nicky thought she had mastitis, went to get a scan and a lump was found. It was only 5 millimetres but grew to about 5 centimetres within 30 days. From there our lives had changed really quickly and our whole journey with breast cancer started.
Nicky and I met as students at NMIT here in Nelson and our adventure began. We cycled through China on a ministry trip, headed to the USA for 6 months, which turned into 6 years, and came back to New Zealand with a young son and another on the way.
Nicky was dreamy, she had all these ideas, way too many really! One of those ideas was chocolate making and in 2011 we set up a commercial kitchen in the double garage, which she negotiated purchasing from the neighbours, and The Truffle Company was born.
After experimenting with many things, she ended up with 12 flavours of truffles. She also did a collaboration with Brightwater Vineyards, incorporating some of their wines into truffles which they used as gifts. She learned a lot through trial and error and was doing well until June 2014 when things started changing up. The cancer, treatments, as well as food regulations changing, meant that she felt she just needed to step away from the business. That was a very difficult decision for her, she enjoyed being independent and doing something she was good at.
Nicky started strong and brave, focused on getting "through this with God's help", because for those first few years, we would have a good run and then another lump would appear, and each time we would deal with it. It was a long eight-year journey and our boys have never really seen Nicky healthy.
The first interaction we had with Nelson Tasman Hospice was in 2021. We were referred by the hospital to get Nicky's increasing pain under control, which our oncologist knew Hospice would be able to take care of. At that point we thought "Man, Hospice? Really? Is it that far along? Is it that soon?" because Hospice in my mind was somewhere you just go to die. As it turns out we were on the service for 18 months before Nicky passed away in November 2022.
We were surprised at how integrated the hospital is with Hospice, the handover of Nicky's care was easy and seamless. Throughout the whole time we were on the hospice service the processes were streamlined, with every part of the team thinking ahead and managing things before we even had to worry about them. The breadth of services that Hospice provides through those established, long standing relationships in the community was the thing which surprised me the most.
From the moment we were admitted into Nelson Tasman Hospice's care, Nicky got involved with Donna, one of the community nurses and she was on the journey with us every step of the way.
It was a blessing to have Donna there as an advocate for Nicky as she was able to escalate things when they needed to be; she would phone the GP, the oncologist or whoever needed to be contacted. The community nurses would come to our home once a month initially and were always available over the phone to ask any questions we had at any time, but then the face-to-face visits increased as we needed them and became daily. At that point, Donna became part of the family in some respects.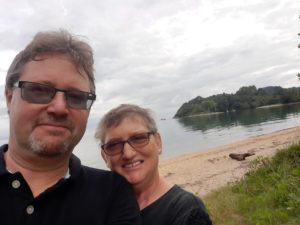 In April 2021, Nicky had a seizure when we were in Blenheim, which meant we were off to Christchurch for radiation. This got on top of the lump in her brain which had caused the seizure, but her pain just kept going through the roof. Again, our Hospice community nurses were there, working with Nicky through the pain keeping on top of everything and asking the poignant questions.
A couple of weeks before she passed away, we had an issue where her temperature spiked and we had to get her to the hospital. At that point the hospital team said there was not much more they could do and we were able to take her home. I got a call from the equipment programme at the Hospice saying they would be there in half an hour with a specialist bed. That was such a relief but a mad panic as to make room for it.
Things started to descend quickly, and we were thankful that as part of the Nelson Tasman Hospice process was providing us with the Advanced Care Planning booklet early which prompted some really tough but important discussions. Starting these conversations early on, when you are able to, is helpful because you never know what's going to pop up. We struggled planning for the worst of times but by working through it together as a family, we were able to better understand Nicky's thoughts and feelings.
Donna also planted seeds about where Nicky would be at the end and, realising that she was the hub of the family, understood that being in the lounge with us would be beneficial for all of us. We wanted Nicky to be part of the bustle instead of tucked away in the bedroom.
One frank conversation was, did we want Nicky home after she had passed away. Something I could have taken or left, after a chat with the boys, we decided "yes" and it was a great thing to do. I see why people do it now.
Experience counts. Yes, you think you know this, but experience counts. And that was a winner from the hospice team in that sense. Just having those discussions beforehand, being led through it, was invaluable. Post-death, everything is complicated and busy and very fast, so just having that wisdom, those pearls, and insights about certain things to help you along made a huge difference to us.
One thing that really sticks out is Donna singing as they drove Nicky away at the funeral. It showed me how invested she was in the whole process and how invested Hospice are in their patients due to being with them over all that time. I was so surprised when I found out that there are about 240 patients a month on the service, but despite that number we really felt how important we were.
Nicky accessed counselling from Hospice throughout those last 18 months, and having counselling available for the boys and myself post bereavement has been an invaluable service for us.
Nicky was an avid scrapbooker and enjoyed her time with a group of ladies doing that together. I've been left with a few things to finish off, but also with albums full of memories for us.
It's very busy now, solo parenting. My workplace has been really good throughout those last few months with Nicky, as well as Nicky's amazing sister, our church community (Nicky loved doing kids ministries especially), and family, both near and far. She was a dreamer, a lover, a wonderful mum – a strong advocate for her boys, and my cheerleader.
We are so thankful that we have had Nelson Tasman Hospice with us for our journey.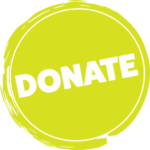 Adrian has shared their story to help us demonstrate how vital hospice is, when you need it. Nelson Tasman Hospice currently receives just under half of the operational costs from government funding. Your donation is a powerful gift that will support the sustainability of hospice services in our region.