Nelson Tasman Hospice thankful to Farmers Stores and local community for another successful Trees of Remembrance campaign over Christmas 2022
Hospices across the country have been overwhelmed by the generous support of Farmers stores and customers in the lead up to Christmas. The annual Farmers Christmas Campaign has raised over $905,000 for hospices this year of which $32,760.21 was raised right here by Farmers Nelson & Farmers Richmond Mall.
Over 15,000 limited edition Christmas baubles were sold nationwide, with Farmers donating the full $10 from every purchase. Farmers customers were also able to donate via a 'Tree of Remembrance' placed in each store, with 100% of the donations from your local store going to your local hospice.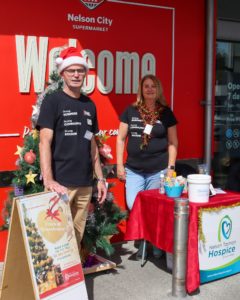 Running concurrently with the Farmers Campaign, was the Community Trees of Remembrance Campaign, which was run entirely by volunteers supporting Nelson Tasman Hospice in five locations across the region bringing the grand total raised in Nelson Tasman to $42,435.21 which will make a significant impact locally.
The team of approximately 190 volunteers including members of the Nelson Tasman Chamber of Commerce, Inner Wheel Club in Stoke and the Lions Club Richmond, staffed stalls at locations in Nelson, Stoke, Richmond, Mapua & Motueka offering locals an opportunity to support Nelson Tasman Hospice and to also take time to remember and honour a loved one who is no longer there to share Christmas with family and friends.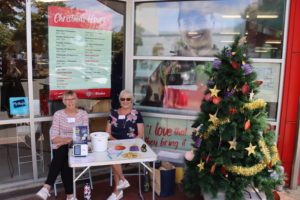 "For the people of Nelson and Tasman the donation of $42,435.21 will enable Nelson Tasman Hospice to continue to provide free specialist palliative care to around 240 patients and their whānau each month throughout the region.
Once again Farmers staff and our huge team of volunteers, have been incredible ambassadors for Nelson Tasman Hospice, not only helping to raise funds, but also helping the community to better understand the work we do.
Now in its ninth year, the Farmers Christmas Campaign has raised in full nearly $7M in New Zealand, helping to ensure anyone with a life-limiting illness can access hospice care, so they can live life well until the end.
The awareness raising that comes from partnering with Farmers is invaluable. The enthusiasm and commitment from all staff, volunteers and the people of Farmers Richmond Mall & Farmers Nelson have contributed to this amazing result, thank you so much" – Tony Gray, Nelson Tasman Hospice Chief Executive
The many tags honouring peoples loved ones, from all the trees, have been collected and will be blessed at a special service in a few weeks, cremated and then the ashes will be spread in the hospice gardens.