Have you ever thought about partnering your business with a local charity like Nelson Tasman Hospice and wondered how to go about it?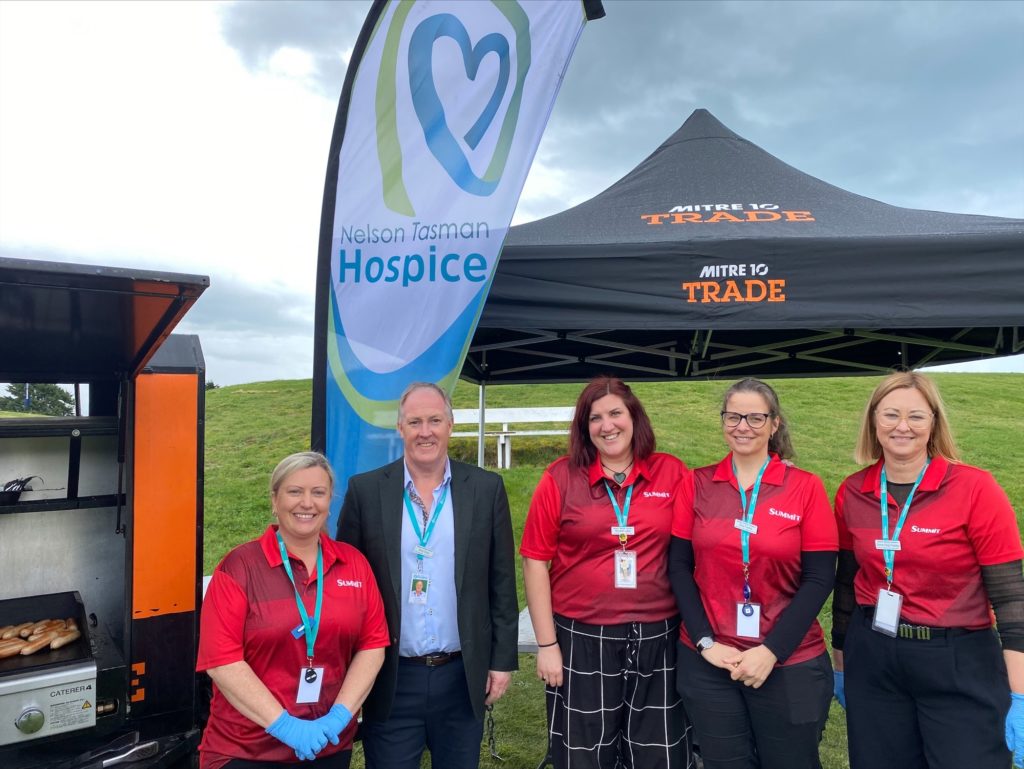 The Nelson Tasman Hospice Trust as a charitable trust currently receives just over half of our operational costs from government funding. As a result, a funding shortfall of approximately $3.5 million needs to be fundraised for each year. This comes from the generous support from the community, donations and purchases from our Nelson Tasman Hospice Shops, grants and fundraising initiatives. Every dollar raised in our community stays in our local community. 
Not only do private individuals and community groups undertake fundraising initiatives, but your business can also get involved and make a significant impact throughout the community. Partnering with Nelson Tasman Hospice will provide much-needed support to ensure continued free specialist palliative care services throughout our region. Your support is an active way to demonstrate your care and commitment to the Nelson Tasman community, your colleagues, and your customers.   
Summit Real Estate recently organised and sponsored the inaugural Keir Wilkinson Memorial Golf Tournament and with businesses across the region entering teams and sponsoring prizes a grand total of $48,977.90 was raised! 
We asked Glyn Delaney from Summit Real Estate, and the Tournament Director for the event, why Summit chose to support the Nelson Tasman Hospice in this way.  
Q: Summit are proud supporters of many things in the Nelson Tasman community. Can you tell us a bit about you and your teams' passion for supporting Nelson Tasman Hospice and hospice services in our region with the Keir Wilkinson Memorial Golf Tournament? What does it mean for you and the team?
A: "Keir was an integral part of our team at Summit and his passing was very sad so as a team we wanted to remember Keir but also give back to the Hospice that played a big part in the final months of his life and who do such a fantastic job in our community." 
Q: What are your thoughts on our community's Hospice services? 
A: "The hospice does amazing job in our community just about everyone you speak to has experienced the Hospice service in one way or another and 100% of people have a positive experience… this tells me there is a great team at Hospice who do amazing things." 
Q: Is there something that you have found out about hospice services in the region, through working with the Nelson Tasman Hospice team, which you hadn't previously known?
A: "I was not aware of the amount of people who use the Hospice each month, it is mind blowing to think 240 people per month on average need hospice care and then the lack of funding, it blows my mind how the service can be so underfunded… having to raise $3 to $3.5 million dollars doesn't seem right." 
Q: What would you say to other businesses and teams in the community considering supporting hospice services in the Nelson Tasman Region?
A: "It is a no brainer; the Hospice is a must for our community, and it needs every cent to continue to operate and serve our community so everyone should get in behind and support the Hospice as you never know when you or your family may need their services." 
There are many ways we can partner and collaborate with businesses, and we'd love to discuss these options with you.  Please contact Donna Ching-Tregidga the Head of Supporter Engagement & Income Development for more information.