Rātā Foundation supports a sustainable Volunteer Programme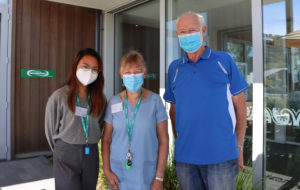 A massive thank you to the Rātā Foundation which invests in South Island organisations empowering them to affect genuine, equitable and sustainable change.
The grant they have gifted will aid us in effectively running a sustainable Volunteer Programme; with 400 volunteers fulfilling 40 designated roles. The grant acknowledges the importance of this volunteer programme to Nelson Tasman Hospice and to our community of volunteers.
Volunteers reflect our communities, increase our reach and improve our capability. We simply couldn't do what we do, if we didn't have our dedicated and dynamic volunteer force.
We acknowledge that it takes a community to make a Hospice happen. Thank you Rātā Foundation for being part of a compassionate community and empowering Nelson Tasman Hospice to care for our community.
Community grants are integral to the sustainability of our Hospice; if you know of any Trusts or Foundations that may consider supporting our essential service work please let us know.