64 Sewing Machines – and Counting!
Catherine is a collector of vintage sewing machines, who recently added another Singer to her collection from our Bridge Street Hospice Shop.
A keen sewer, the collection started after beginning the hunt for a machine like her grandmother's; an Elna Grasshopper. She found a Grasshopper eventually, but it was a Singer 12 that caught her eye, and it was like love at first sight. The machine was seized up, but Catherine eventually got it stitching again and her lo
ve for collecting and restoring vintage sewing machines blossomed.
Catherine is in awe of the mechanics of the machines and loves the "delicate chain stitch from an old machine." The oldest machine in the collection is from 1863.
You can just imagine the dresses that were made, the christening gowns, and all the various garments of the 19th century. 
One of the machines in Catherine's collection is a 'Moldacot' Pocket Sewing Machine of the late 1800s; the smallest lockstitch model ever made, a strange-looking upright machine with a bit of a funny story. To make the machines sound
 far more popular than they were, the company would print serial numbers on them that would suggest they had sold a much higher number of machines. In reality, they were incredibly unpopular for their impracticality. There were very few machines that could successfully sew.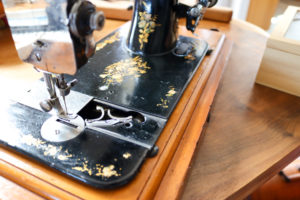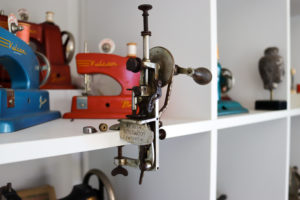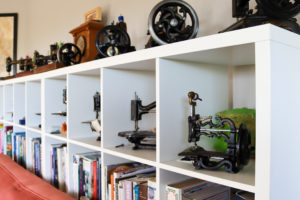 Each machine holds the history of the time it was made, along with an untold story of clothes that were sewn. Painting a picture of clothing and textiles making their way through the Industrial Revolution, the background of the companies that engineered these machines, the mechanics and the mystery of these otherwise static objects. You can begin to understand Catherine's passion for this unlikely collection.
The sewing machine that was donated to the Hospice Shops is a Singer from 1893, in gorgeous condition, complete with its original wooden case. The machine will need some adjusting of tension, and tinkering with the shuttle, but that's just the way she likes them. Catherine's neighbour spotted it on the shop's Facebook page and immediately thought of her – Catherine had to have it. Straight away, she called the store and asked them to put it aside for her. On pick up, Catherine also took it as a chance to donate a duplicate from her collection.
Grabbing a bargain, clearing the clutter, and supporting her local Hospice.
Catherine explains her connection with supporting the Hospice Shops is deeper than just getting a bargain. Having her husband pass away while in Hospice care in England, Catherine sees shopping and donating to Nelson Tasman Hospice Shops as the best way she can support the charity now. She explains "I have two teenagers and work full time, I can't afford to donate regularly or volunteer, but I can support Hospice through shopping at their second-hand stores."