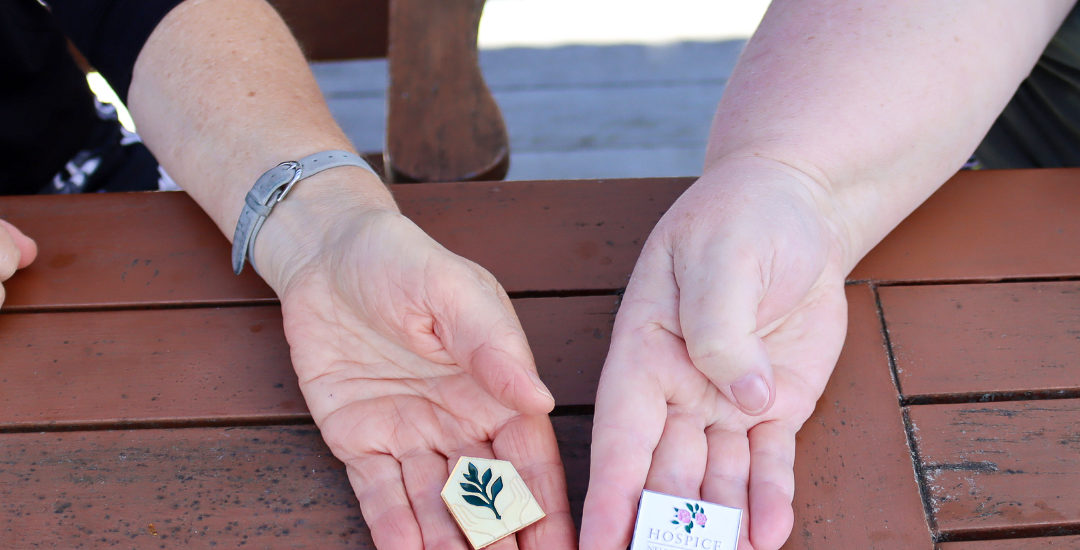 This badge depicts the first ever logo for Hospice services in Nelson.   
Known as "Hospice at Home", the service started early in 1987 and was based in an old NMDHB owned house at 96 Waimea Road. 
Hospice at Home staff comprised two nurses – Judith Wilson and Shirley Owen and one nurse educator – Bev Parkes. In October 1987, volunteer coordinator Mary Garner was employed and in May 1988 administrator, Jen Sims joined the team.  Two oncology nurses were also based at the house making the house the base for both Hospice at Home and Oncology nursing services. 
It was decided early on to name the building for these two services, Sally McCormack House. Sally McCormack was a patient who left her estate for the establishment of hospice services in the Nelson region.   
 Despite being a DHB run service, Hospice was keen to form its own identity, so it was decided to develop a logo. Judith Wilson's twin daughters Omi and Rucha attended Nelson College for Girls, so a competition was launched there for the design of a hospice logo.
This competition was won by one of Judith's daughters, but we can't remember which one.   It was a simple design – particularly by today's advanced graphic standards – but highly symbolic of the basic values of the Hospice Service. 
This logo represented hospice services in Nelson until the early development for an inpatient unit in Manuka Street.   Hospice was again, forging an identity separate from Oncology and Cancer Society so the then Nelson Region Hospice Trust board developed a different logo. 
 This logo therefore represents an important history for hospice in Nelson.