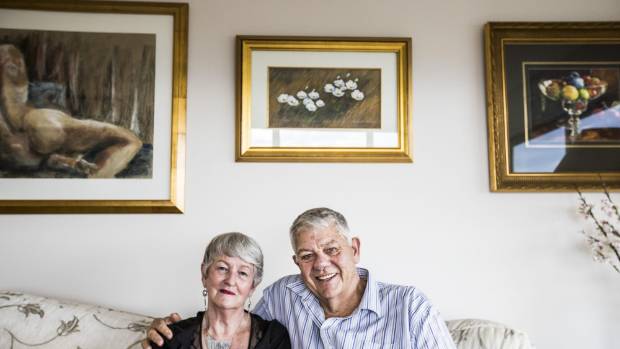 Life Story Writing 'A Privilege', Say Our Volunteers
Life story writers Edna and David McKegg are the latest Hospice heroes to be profiled in local media. Hospice patients sometimes tell them their lives have been boring, but Edna and David say that is never the case.
How did you get involved in life story writing for hospice? 
Edna: I applied to replace a friend who was leaving town in 2008. I was attracted to it as a worthwhile way to help and to some degree comfort people and their loved ones during a very stressful period for them all.
I used to be a counsellor and it's made me more aware when there's something deeper or darker that people want to say.
David: I was a lawyer, prosecutor and judge and finished full time work at the end of 2013 but still wanted to contribute to the community in some practical way. As a judge you get to know human nature, of course, but we're not judging – we're just recording.
What is it exactly that you do? 
Edna: Nurses normally let the volunteer coordinator know of someone who would like to compile their story. We meet them and the recording of the story can take many months, usually meeting for about an hour a week.
I take shorthand. David uses a recorder and I transcribe it for him in return for him making dinner.
The patients usually say: 'My life has been so boring' but I've never found once that they are boring.
David: I engage with people by being friendly, just a friendly presence. I have to be careful not to be a cross-examiner.
What do you find rewarding about this work?
Edna: There's definitely a sense of satisfaction when a story lies completed on the desk but that's secondary to seeing the satisfaction the patients and their families get from the work.
Being allowed into the lives of people is a real privilege for us.
What is something the public don't know about the work you do at Hospice?
The time it takes to complete a story – six to nine months wouldn't be out of the way. Also, there are aspects of counselling involved, although we don't undertake that lightly or with any great involvement.
What is special about Nelson Tasman Hospice? 
It provides expert care to those so desperately in need of it and it's staffed by the most wonderful people who are the largely unsung heroes of any hospice story.
A New Home for Hospice
The Nelson Tasman Hospice is building a new facility in Stoke and is asking for the community's help to fundraise $2.5 million of the $11.5m project. To donate, visit 
 – Stuff