Te Kāhui Manukura
The key role of Te Kāhui Manukura is to deliver the strategic objectives identified by the Board. Simultaneously, the team is tasked with developing their own areas of Hospice, while never losing sight of collaborative leadership, direction, development and encouragement of the overall Nelson Tasman Hospice team.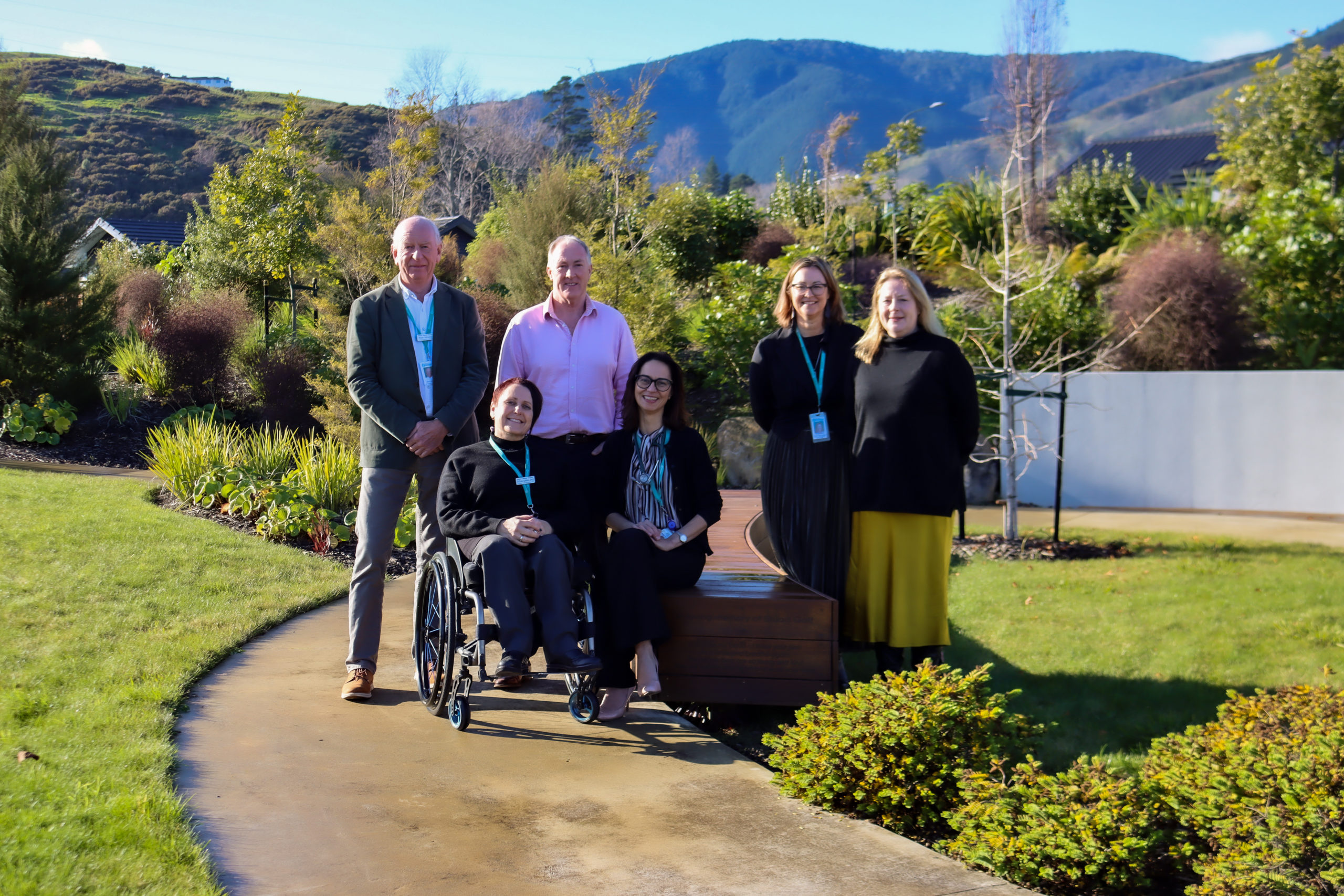 Tony Gray
Chief Executive
Tony was appointed to the role of Chief Executive at NTH in June 2021, following 26 years as a Chief Executive in the public and private tertiary sectors, in the UK, Australia and New Zealand. Amongst a number of graduate and post-graduate qualifications, he is a Fellow of the Institute of Management (Australia and New Zealand) and a Chartered Biologist.
Making a positive difference to people's lives, has been a crucial component of career, whether it be for those who are accessing or providing the services, he has been involved with.  Ensuring Nelson Tasman Hospice continues to develop sustainable specialist palliative care services for the future of the Nelson Tasman region is part of why, he was drawn to the role.
Dr. Jodie Battley
Medical Director
Dr Jodie Battley is a Palliative Medicine Specialist and Medical Director at Nelson Tasman Hospice. Jodie graduated from Otago Medical School in 2004. Since 2007 she trained in Ireland and completed advanced training in Palliative Medicine there in 2016. Dr Battley is widely published in oncology and palliative medicine, including the development of national palliative care clinical guidelines in Ireland. Dr Battley returned to Nelson to this role in 2017. She provides consultation and support in the care of patients and their whānau with complex palliative care needs in the community, Nelson Hospital, Hospice Outpatient Clinic, and in the Hospice Specialist Palliative Care Unit. Jodie is passionate about education and enjoys working with undergraduate and postgraduate junior doctors, as well as providing palliative care advice and support to local GPs.
Shelley Spencer
Head of People, Capability and Wellbeing
Shelley leads our People, Capability and Wellbeing team. She is responsible for developing and implementing HR, Health and Safety and Well-being strategies for our service to ensure we have a fit-for-purpose and high-performing team to meet the needs of our service and community, now and in the future.
Shelley has an LLB (Cant), and after being admitted to the High Court as a Barrister and Solicitor she practised Family and Criminal Law and went on to hold various legal roles in the public and private sectors. A passion for Health and Safety began when she became involved in health and safety prosecutions on behalf of the Crown. Her HR career started in Auckland District Health Board at a time when it was undergoing significant change, and she has since worked in Air New Zealand, Sealord Group and Port Nelson as well as consulting within the Nelson Tasman region.
Born and raised in Nelson, Shelley feels it is a privilege to be working with such a highly skilled passionate Hospice team in her hometown and to be part of ensuring we develop sustainable specialist palliative care services for the future in this region.
Donna Ching-Tregidga
Head of Supporter Engagement and Income Development
Donna started with us as our Head of Supporter Engagement and Income Development in February 2022 and is responsible for stakeholder engagement and income development including oversight of the four hospice shops throughout the region which raise approximately $1.5million of the $3million funding shortfall the service has each year. Donna is an experienced senior manager with a wide range of marketing, communication and business development experience including over 20 years with World of WearableArt Limited in various positions, most recently as Head of Marketing.
Brian Johnston
Head of Finance and Operations
— Bio pending —
Dr. Lea Galvin
Clinical Services Manager
Dr Lea Galvin is a Senior Clinical Psychologist and the Clinical Services Manager at Nelson Tasman Hospice. Lea graduated from Otago University in 2003. Since graduating Lea has worked in a number of areas of health in New Zealand and overseas. Lea has spent a large portion of her career working in neurological rehabilitation with a particular interest in the palliative components of these roles.
In 2008 Lea relocated from overseas to Nelson where she began work as the clinical leader of a private rehabilitation company where she developed a passion for working with interdisciplinary teams. For the past decade Lea has also worked as a consultant to the family court, ACC and to the Nelson Tasman Hospice.
In her role as Clinical Services Manager Lea is passionate about meeting the challenges faced by the hospice in continuing to provide clinical excellence both now and in the future.